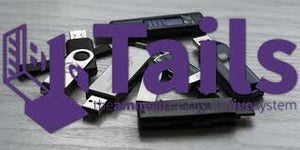 Private Operation system TAILS on USB
Regular price
Sale price
€120,00
Tax included.
---
Secure Computing Anywhere: The USB TAILS Experience
Ultimate Security: Dive into the world's most secure, unbreached system with TAILS, an open-source marvel.

Portable Anonymity: Carry an anonymous operating system in your pocket. Boot from the USB, bypassing Windows, macOS, or Linux.

Enhanced Features: Built on Linux, integrated with PGP, and equipped with a specialized Tor chat.

Expert Setup: Let us perfect it for you for €120. We ensure a seamless, secure experience.

Safety First: TAILS operates independently, avoiding malware. However, always be cautious of hardware threats like keyloggers.

Bonus Tutorial: Get a Monero wallet and Telegram setup guide when you choose our service.
Your Ultimate Secure Computing Experience, Anywhere on Earth!Introducing the USB TAILS
- an embodiment of cutting-edge open-source technology.
TAILS isn't just any system;
it's the pinnacle of security. Celebrated as the world's most secure program, its integrity remains unbreached. Imagine having an entirely anonymous operating system right on your keychain!
While the system's foundation is built on Linux, it boasts its own VOLT. It seamlessly integrates with PGP and features a specialized Tor chat. A vast community continually refines and enhances TAILS, ensuring its unparalleled safety.
While the DIY spirit is commendable, a misstep in installation could risk your data. Why take the chance? Let us do the heavy lifting. We'll configure the system to perfection and dispatch it to you, complete with user-friendly instructions. A few days of meticulous work on our end ensures you receive a plug-and-play secure system.
For a comprehensive setup and peace of mind, we charge €120. We're transparent about TAILS, encouraging you to research and even attempt a self-setup if you're inclined.
To activate, simply power down your computer and boot from the USB stick, bypassing conventional operating systems like Windows, macOS, or Linux. Transform any computer (less than a decade old) into a fortress of security, even if it's not your own. Once done, revert to the original system with a simple shutdown.
Fear malware?
With TAILS, that's history. It operates independently, never accessing the hard disk. However, be wary of malicious hardware components, such as keyloggers.
Should you choose our expertise, we're at your service. As a bonus, we've crafted a tutorial on installing a Monero wallet on TAILS and setting up Telegram. Upon receiving our TAILS USB, reach out on Telegram, and we'll share the guide.
Contact us for more questions :
Telegram
Support